Advertising Disclosure ⓘ​
Rankings are generated from thousands of verified customer reviews. We do not accept free products from any company––we only review products we love. By clicking on the products below, we may receive a commission at no cost to you.
best Power Incline treadmills
for Uphill Walking, Power walking, and mountaineering
The T303 treadmill has all the hallmarks of Horizon's much-loved fitness equipment. Its 3.0 CHP motor is quite powerful, not to mention steady and quiet, and comes with a lifetime warranty. Much like other models in the range, Horizon touts this motor as one of the best in the market for interval training, as it quicker to respond to speed changes than most of its competitors (especially those anywhere near its affordable retail price). The speed goes up to 12 mph, while the incline upper limit is 12%. While its speed is fairly standard, its 12% incline is a few degrees off of the industry standard. Whether you're a walker, jogger, or runner, adding incline to your routine helps ramp up that calorie burn. That said, those looking for a lower impact workout and those recovering from (or coping with) joint issues or injuries are unlikely to be using their treadmill at full incline anyway, so this shortcoming will be less relevant.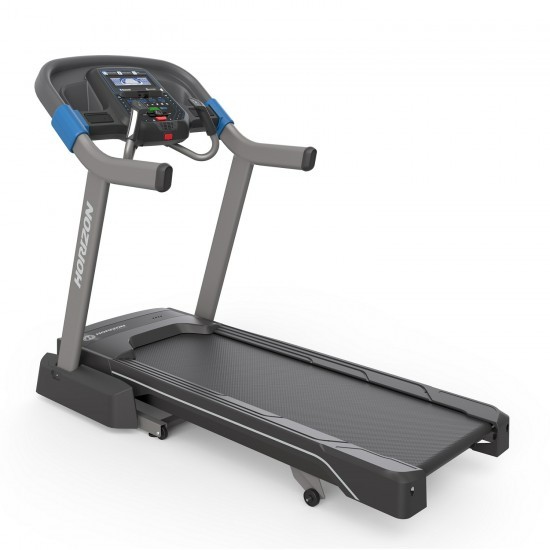 Horizon 7.0 AT - Best Budget
The Horizon 7.0 AT comes with 10% incline and a max. running speed of 10 mph. The enhanced Bluetooth connects to multiple devices to stream media through integrated speakers so you can use various training apps on the 7.0 AT. This is one of the most attractive features on the 7.0 AT – you are not locked into one single subscription. Using your personal tablet or phone, you can use Zwift or Peloton or iFit while on the Horizon 7.0 AT. 
There is a 5% decline and a 15% incline both motorized. By using this high incline treadmill you can replicate any course, even the down hill parts and improve your performance when you encounter it. The 400 lbs weight capacity mean the whole family can get a workout comfortably. If you're overweight then you can exercise with confidence to help you lose weight. Bowflex T10 isn't a budget treadmill, but it also isn't comparable to the price of a high-end machine, like a Peloton Tread or AssaultRunner.
The Horizon Fitness 7.8 AT is Horizon's highest grade treadmill in their Studio Series lineup. This treadmill comes with 15% power incline, making it a great choice for uphill walking and power walking. It has a full 22" wide and 60" long deck which is compatible with other high-end folding treadmills. This provides plenty of space for walking, jogging, or running and should offer enough kickback for even tall runners. Crush your fitness goals with this foldable inclined treadmill, the Horizon 7.8AT. Connect directly to your favorite workout apps, such as Zwift or Peloton, or use the integrated Sprint 8 HIIT programming.
If you're looking for a straightforward treadmill that doesn't require a subscription or a wifi connection to use, then the Xterra TRX4500 is a solid option. With over 30 onboard training options, and heart rate training with an included chest strap, you'll have plenty of choices. You can always place your device on the rack and stream your own content or connect to apps like Zwift through Bluetooth for additional options, too. With a 12 mph max speed, 15 levels of incline, and additional quick-touch buttons built into the console, you'll have no problem getting sweaty on this treadmill. You might need to plug in a separate fan to cool off though. Everything the Xterra TRX4500 has to offer indicates that it is a hearty treadmill that you should consider, especially if you're looking for one that folds up and can be moved around.
At well under $1000, the T202 comes with more features than you'd expect from a treadmill in this price range. It's rare to see a spacious running surface, bluetooth speakers, and a great warranty effortlessly combined together on a budget treadmill like this. The T202 is compatible with streaming entertainment services like Hulu, Spotify, YouTube, and Netflix and comes with a downloadable sports app allowing interface between a user's personal device and the machine. It is an optimal machine for those looking to bring their fitness routine indoors.
The F80's full-steel frame supports up to 375 pounds but it still easily folds up. With a nice 60" by 22" belt and a Lifetime Warranty on the frame, motor and deck, the Sole F80 is a solid investment. Although it offers limited tech options, this is ideal if you are looking for a treadmill that doesn't require a monthly subscription to use. We highly recommend this quality machine if you're looking for a capable treadmill that can handle a lot of use. Sole gave the F80 a reversible deck when it upgraded the model, which not only doubles the life of the deck but also reduces the sound of each step and reduces impact by up to 40% compared with outdoor training. Especially if you have joint injuries, this feature reduces your risk of developing arthritis.
Benefits of Running on a Incline Treadmill
Just like hill training when running outdoors has many benefits like improving leg strength, improving your stride speed and length, and protecting your leg muscles against soreness. Exercising on a treadmill incline has many benefits as well.
Increasing the incline on your treadmill incline has similar benefits to hill training, like burning more calories than flat road running, building leg strength, and positively impacting your overall fitness level.
Increased Endurance
Running on a treadmill incline helps build your cardiovascular endurance because you take in more oxygen as you run at a steep incline. Adding an incline to your run will make your lungs work harder increasing the strength of your diaphragm and lungs long term.
Uphill running also helps reduce your risk for heart disease. As you consistently increase your heart rate, you extend your heart's strength and longevity.
Running on an incline for a longer period of time will also improve your V02 max – which is the amount of oxygen your body can take in while exercising. Increasing your V02 max will allow you to run better for longer, as your body will be able to take in and deliver more oxygen to your muscles.
Mimics Outdoor Running
Typically, treadmills seem to be easier to run on when compared to outdoor running. Outdoor running can be more difficult because of natural elements like wind, rain, snow, hills, or the terrain you're running on. When treadmill running, most people typically run at a flat 0% incline that provides little to no resistance. But, when you run at a 1-2% incline, you experience a more natural, outdoor running feel. The incline takes into account the lack of terrain variables so you can work just as hard as you would outdoors.
Increases Strength
Incline running will help you build more leg muscles by propelling your body uphill, making you work harder than running on flat roads. As you build your strength and endurance with incline running, your energy levels will increase, your body will look more toned, and everyday activities like walking, carrying groceries, and cleaning will start to feel easier.
What Is a Good Incline to Run on a Treadmill?
As a beginner at a basic fitness level, it's a good idea to start with a percent incline of 1-2%. Experts say this gives the most authentic outdoor running experience. It's this level that can mimic hill training.
When you're running on an incline, try to run at a moderate pace for your fitness level. Don't sprint up the incline as this can cause injury and burn you out quickly. Instead, take into account your Rated Perceived Exertion (RPE). Your RPE is measured on a scale from 1-10 with 1 being the easiest, and measures the intensity of your workout. This will vary based on your fitness level. While measuring your RPE, you should take into consideration your breathing, effort, and how tired you feel at each level. Depending on the goal of your workout, you'll want to vary between moderate and hard RPE when running inclines.
To ease your way in, always start with a warm up walk at a moderate speed with little to no incline to get your heart rate up and wake your body up, as well as cool down to ease your muscles out of the workout.
Incline Treadmill Workouts
Interval Training
Equipment: Incline Treadmill
This workout doubles as interval training and builds up your strength and endurance to help build up your fitness levels. Adjust the speed of the treadmill based on your heart rate zone and RPE.
Warm up: 5 minute steady state walk at easy pace
Working set:
Interval 1: 85% max. heart rate at 3% treadmill incline. 20s on, 40s rest. Repeat 5x
Interval 2: 75% max. heart rate at 4% treadmill incline. 40s on, 20s rest. Repeat 5x
Internal 3: 70% max. heart rate at 5% treadmill incline. 60s on, 30s rest. Repeat 7x
Cool down: 5 minutes steady state walk at an easy pace
Note: To use this workout effectively, use this heart rate chart to better understand how to calculate your HR at each level. Training based on your heart rate is effective because it provides actual insight into how hard your body is working and at what state your body is in: warm-up (zone 1), fat burn (zone 2), cardio (zone 3), and peak (zone 4).
Speed Workout
Equipment: Speed Treadmill
This workout is designed to increase your running pace and speed to allow you to run for longer and faster periods.
Warm up: 10 minute slow jogging with no incline
Working Set:
Increase incline to 1-2%, keeping your pace the same for 5 minutes
Increase your speed to mid pace, keep the incline the same for 5 minutes
Increase incline to 3-4% for 5 minutes
Increase incline to 5-6% and pace to 75% of max heart rate for 30s, rest 60s repeat 3 times
Cool Down: Decrease incline to 1-2% lower speed to walking for cool down
Note: Depending on your fitness levels, be mindful of your RPE throughout the workout. At any moment if you exceed a 6 RPE and your heart rate stays at peak for too long, adjust the speed to accommodate your fitness levels.
There are many different kinds of treadmill workouts you can do to build strength, fitness levels, and muscles. Here's a beginner's guide to treadmill workouts if you're just starting out on a treadmill.
What Incline and Speed Should I Use on a Treadmill?
When it comes to treadmill workouts, there are a variety of factors you can play with like incline and speed. If you're looking for a workout to aid in weight loss, increase your treadmill incline to 3-5% after a solid warm up. If you're an advanced runner, consider increasing the incline to 6-12%. This will help improve your cardiovascular health and challenge your body more. It's important to note, only increase to 6%+ if you are an advanced runner. Or, if you can't run at an incline, walking at an incline is a great first step. Jumping in inclines too quickly before your body is ready can do more harm than good. Gradually increase your treadmill's incline for the most effective workout.