Advertising Disclosure ⓘ​
Rankings are generated from thousands of verified customer reviews. We do not accept free products from any company––we only review products we love. By clicking on the products below, we may receive a commission at no cost to you.
best Home treadmills with TV Screen
for Streaming and Entertainment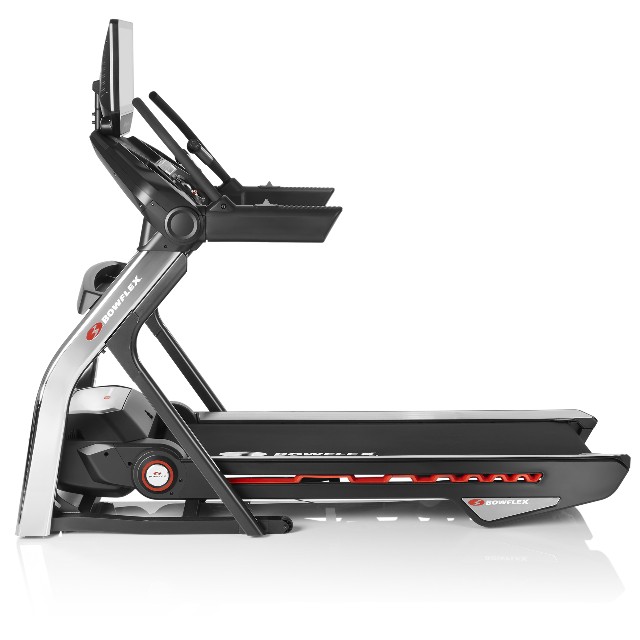 Bowflex T22 - 22" HD Screen
The Bowflex 22 is a top-notch treadmill that can easily meet the needs of everyone, even the most avid runners who follow rigorous training programs. The 400-pound weight capacity, strong construction, and highly efficient Comfort Tech cushioning all define this heavy-duty treadmill. Proper hill workouts are possible thanks to the 60′′ x 22′′ tread area, 12 mph top speed, and -5% descent to 15% inclination. You can effortlessly manage the JRNY app and watch exercises while running thanks to a 22-inch HD touchscreen. JRNY also offers the choice of streaming your preferred shows through the screen, and it is compatible with third-party applications like Zwift on your own smartphone.
The T101 is Horizon's entry-level treadmill that is best for walkers and joggers. It is compact, sturdy, quiet in operation, and has Horizon's proprietary 3-Zone cushioning in the deck to protect your spine and joints. This is a great treadmill option for those who want gentle training and conditioning.
At well under $1000, the T202 comes with more features than you'd expect from a treadmill in this price range. It's rare to see a spacious running surface, bluetooth speakers, and a great warranty effortlessly combined together on a budget treadmill like this. The T202 is compatible with streaming entertainment services like Hulu, Spotify, YouTube, and Netflix and comes with a downloadable sports app allowing interface between a user's personal device and the machine. It is an optimal machine for those looking to bring their fitness routine indoors.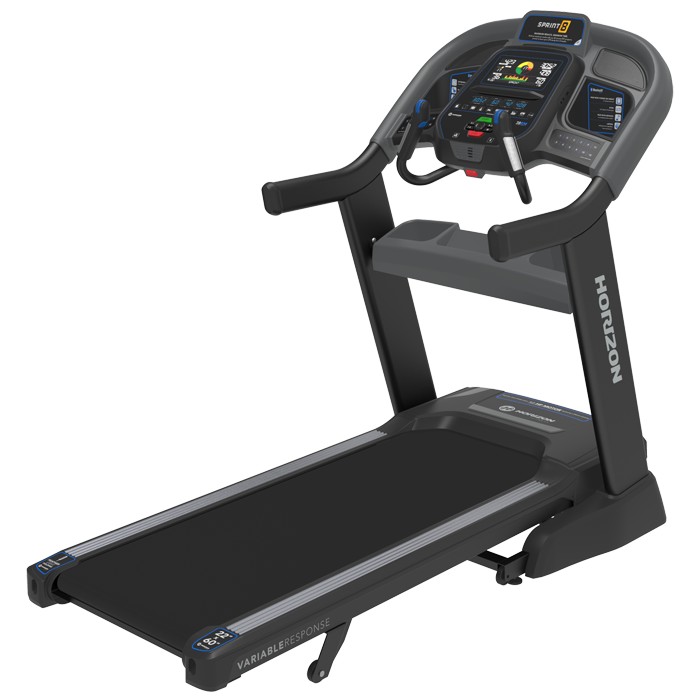 Horizon 7.8 AT - 9.3" TFT Screen
The Horizon Fitness 7.8 AT is Horizon's highest grade treadmill in their Studio Series lineup. It has a full 22" wide and 60" long deck which is compatible with other high-end folding treadmills. This provides plenty of space for walking, jogging, or running and should offer enough kickback for even tall runners. Crush your fitness goals with Horizon's most powerful treadmill, the Horizon 7.8AT. Connect directly to your favorite workout apps, such as Zwift or Peloton, or use the integrated Sprint 8 HIIT programming.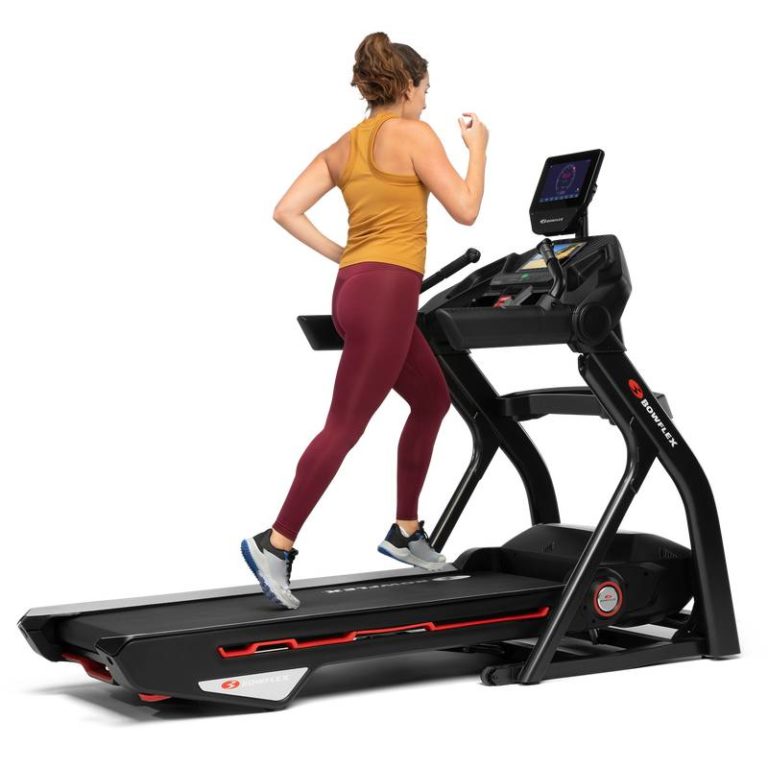 Bowflex T10 - 10" HD Screen
There is a 5% decline and a 15% incline both motorized. By using this you can replicate any course, even the down hill parts and improve your performance when you encounter it. The 400 lbs weight capacity mean the whole family can get a workout comfortably. If you're overweight then you can exercise with confidence to help you lose weight. Bowflex T10 isn't a budget treadmill, but it also isn't comparable to the price of a high-end machine, like a Peloton Tread or AssaultRunner.
The XTERRA TRX5500 is XTERRA's top treadmill model. Its 10.1" touchscreen features 7 preloaded apps, Bluetooth connectivity, as well as 30 onboard workouts, and manual, custom, and heart rate training modes. You can stream directly from Netflix, Youtube, Hulu, as well as various news outlets once you log into your respective account within each app. You can also mirror content from your phone/tablet to watch pretty much anything. This feature is a great way to take trainer-led classes from third-party fitness apps as well. The TRX5500 has a 3.25 HP motor that feels hearty and is pretty quiet. The steel frame, uprights, and crossbar make this treadmill solid and sturdy as well. The screen and entire console remain still even while running at high speeds, which users of all sizes can do on this machine. The 20" x 60" deck and heavy 350 lb weight capacity can handle different levels of training and long-term use.
You might already know that the fastest way to burn fat and extra calories you consume is a good cardio session on the treadmill. The cardio workouts on the treadmill might feel monotonous as you have to spend considerable time on them for achieving some significant results.
To avoid getting bored while working out on a treadmill, you can buy a treadmill with TV screen on it. The TV monitor can be used as an entertainment device or can also be used for playing instruction videos for HIIT or any other training.
In this buying guide, we have gathered a list of some of the best treadmills available that either have a TV screen or are compatible to hold your tablets or other video devices. These are chosen considering many functional, aesthetic, durability factors.
We are quite sure that you find the treadmill that suits you here on this page. And you will also get to know what to look for in a treadmill while making the buy decision.
Things To Look For While Buying The Treadmill With TV
Before deciding, you must thoroughly evaluate your options. Otherwise, you risk wasting a great deal of money on an ineffective treadmill with a TV. Learning basic purchasing guidelines ensures that you select the most satisfactory alternative and do not regret your purchase.
Size Of TV Screen
When you buy a treadmill with a TV then screen size is the most important factor to consider. The screen size must be big enough so that you can enjoy your favorite shows, or use movie apps like Netflix, Hulu, and Disney.
Connectivity
When exercising, your favorite music might help you stay focused and avoid boredom. As a result, having a smartphone or a media player will be preferable. Bluetooth or wifi connectivity is a must in order to operate multimedia on your treadmill.
Power
What kind of power do you require? This is entirely dependent on how you exercise. You should pick a 2- CHP capacity when you stroll. A 2.5-3 CHP horsepower machine, on the other hand, would be ideal for running or jogging.
Speed
The maximum speed limit, as well as the range of descent or inclination, are significant considerations. Six miles per minute is the same as 10 or 15 miles per hour.
The inclination range is usually around 10% and 15%, and you should investigate all options. On various e-commerce platforms, you can find a variety of decline alternatives.
Running Surface
If you're a pro, a 22-inch belt will suffice. Alternatively, if you only walk or jog, a 20-inch belt might be ideal. In terms of length, 55 inches is perfect for runners, while 50 inches is suitable for walkers. If you're taller than 6 feet, you'll want to go for a 60-inch belt.
Easy Movement
A treadmill with a TV may be the best item to add to your home decor if you don't have a gym at home. As a result, you need to look for equipment that is easy to maneuver. Choose a treadmill that you can lift and transport to a different location.